What's Up
I recently performed as
both
as the Player Queen
and
Guildenstern in
Hamlet
with the Drilling Company at the Michael Chekhov Theatre Festival in Ridgefield, Connecticut. We have a female Hamlet! Woo hoo! Info
here
. FREE.
My two audiobooks are both for sale on Audible!
Dating an Alien Pop Star
by Kendra L. Saunders (another Kendra), was a ton of fun to read for. Daisy Kirkwood, a new New Yorker in search of herself and the life she wants, gets kidnapped by two adorable aliens - Griffin and Dev - seeking to become British pop stars in an intergalactic mission to save both their home planet and Earth. Together, they must face murderous aliens, cultural misunderstandings, bad backup musicians, and the dark side of fame and the media, all set against a tight deadline.
Queen's Enemy: Blood Prophecy
by Barb Jones was an incredible opportunity to dive into dozens of characters from across the accent spectrum, as well as from across the supernatural species spectrum. ​The child Zaraquel, born of powerful witch Chloe and vampire Marcus, takes her place in the Prophecy that reveals itself as the Blood Moon rises. Witches, vampires, werewolves, demons and angels form an intricate web of alliances and enmity in a tale that weaves through time, marking the preparation for the upcoming epic battle that has spanned millennia.
Check me out!
Who I am
I'm an actor and recent transplant to New York City from the San Francisco Bay Area, where I was most recently seen as Marlene in Shotgun Players' production of Top Girls. Besides performing, I enjoy fitness, ukulele, graphic design, visiting museums and exploring every inch of New York City.
---
Powered by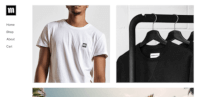 Create your own unique website with customizable templates.